Warm spaces in our catchment area
Date published: 19 December 2022
As we face extremely cold weather and the rising cost of living the local community has come together across our catchment area to offer Warm Spaces open to the whole community. According to Eastbourne Borough Council, Warm Spaces are safe, warm, and non-judgemental spaces where local people can sit and be warm, study or work, have a hot drink, be with company and access information or advice. Warm Spaces in the different areas of our catchment area are as follows:
Eastbourne
Eastbourne Borough Council has created a comprehensive list of Warm Spaces here.
Hailsham and Horam
There are several Warm Spaces available in both Hailsham and Horam. A full list can be found here.
Heathfield
St Richard's Church Hall, Park Road, Heathfield will be holding a Warm Space every Friday from 10am to 4pm. Find out more here.
Hellingly
Hellingly Hub will be hosting a Warm Space every Friday starting the 6th January from 12 to 2pm. Find out more here.
Herstmonceux
Herstmonceux Parish Council have put together a diary of Warm Hub events on their website here. The events are taking place across the village in various community locations.
Pevensey
The Library, Pevensey Bay is open as a Warm Space on Wednesday and Thursday from 2 to 5pm and Saturday from 10am to 1pm.
St Wilfrid's Church Hall, Pevensey Bay is open Tuesday and Friday from 12 to 5pm.
Polegate
Polegate Free Church are offering a Warm Space on the third Tuesday of every month from 2 to 4pm.
St John's Church are opening their doors on the first and third Wednesday of each month from 10am to 1.30pm.
St George's Church hall serves breakfast and tea on the first Sunday of each month after mass.
Seaford
Several churches and community organisations in Seaford are offering Warm Spaces. Find out all the locations and timings here.
Uckfield
There are several Warm Spaces now in operation in Uckfield.
On Monday Ridgewood Village Hall is open from 12 to 3pm
Each Tuesday the Luxford Centre is open from 10am to 4pm. Find out more here. There is a free volunteer-led car service to this Warm Space – call 01825 578006 for more information.
On Wednesday Uckfield Baptist Church and Cornerstone Church are open from 10am to 3pm.
Each Thursday Kings Church is open from 10am to 12.30pm.
On Friday Sussex Support Service CIC at Victoria Pavilion is open from 9.30am to 4pm (starting the 6th January). They also run a Saturday social from 2 to 4pm.
The Holy Cross Church is open on the second and last Friday of the month from 10.30am to 12.30pm.
In addition to the above, The Street Café in the hospice (1 Broadwater Way, Eastbourne) is open seven days a week from 8.30am to 4pm as a welcoming space open to all with affordable food available.
For more advice about how to keep well and warm in East Sussex click here.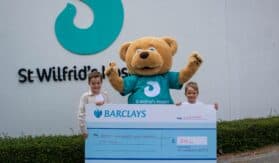 Jacob, 8 and Arlo, 5, approached businesses around Eastbourne asking them to donate prizes to their very own raffle.