Students experience six months on the IPU
Date published: 09 February 2022
In September, 12 local young people interested in a career in healthcare joined our Young Clinical Volunteer (YCV) programme to spend six months on our Inpatient Unit. This is our sixth cohort of YCVs, and it is great to have the programme running again after the pandemic. 
Once a week, each of the YCVs attend a four-hour shift where they work directly with patients to support the Nurses and Healthcare Assistants. To mark Student Volunteering Week, we spoke to three of our YCVs – Lara, Sophia and Thamina – to find out how they are getting on as they approach their final few weeks. 
Lara
Lara, 17, is in her second year of A Levels at Heathfield Community College Sixth Form studying Biology, Chemistry and Maths. She hopes to be a Doctor in the future and previously volunteered as a Host but decided that the YCV programme would give her a more hands-on experience and teach her a new set of skills that would benefit her university application. 
'During my time on the Inpatient Unit I have been able to shadow the Nurses and Healthcare Assistants. I help to move patients so that they can be comfortable and prevent pressure sores, I help to wash and feed them, and I enjoy spending time with them, so they have someone to talk to,' she explained. 
While there are many elements to the programme that Lara expected, there are others that came as a surprise. 'I expected to gain new skills and experience what it is like to work in a clinical environment, but I never expected the shifts to be so busy. Every shift is completely unique as patients' needs change,' she said. 
'During my time as a YCV, I have learnt the importance of teamwork, between all clinical staff, and time management. It is crucial that everyone is up to date on each individual patient's health and tasks are completed efficiently. We never want to leave a patient in pain or discomfort.' 
Sophia
Sophia, 17, is currently studying Chemistry, Biology, Economics and Music at Bedes Sixth Form with the hopes to study Medicine at university. Like Lara, Sophia was a Host volunteer prior to joining the YCV programme. 
'I wanted to be more involved in the patient care,' she told us, 'I heard about the programme and couldn't pass up the opportunity! I thought that it would be a great chance to learn more about the vast number of medical professions available. 
'I have definitely got more involved than I thought I would. For example, I have been able to shadow drug rounds and the Doctors' rounds, and these have both been so interesting. Doing this has given me an insight into what the career entails and I have learnt so much about different medications and ways to communicate with patients, especially when talking about sensitive topics.
'I have loved connecting with the staff and patients and I have learnt so many new skills during my time on the programme. Not only have I developed skills working with patients, but I have also learned how to effectively work in teams and have gained more confidence talking to people through answering the phone and taking part in Multidisciplinary Team (MDT) meetings.' 
Thamina
Thamina is 17 years old and from Eastbourne. She is currently studying Maths, Biology and Chemistry at Bexhill Sixth Form College and hopes to become a Doctor, specialising in paediatrics. Having previously done work experience at the Eastbourne DGH, she applied to the YCV programme to see the difference between the two medical settings and experience palliative care first-hand.
'My shift on the Inpatient Unit includes going around the ward with the Healthcare Assistants to check on the patients and on drug rounds with the Nurses. Over time I have grown more confident and now I answer call bells from patients,' she told us. 
Like Sophia, Thamina was given the opportunity to shadow the Doctors on a round. 'It was a wonderful opportunity,' she said, 'I was able to ask them questions about their journey through medical school and why they chose the profession they did. 
'I did not expect to be allowed to do many of the things I am. I did not think I would be able to shadow a Doctor, or attend an MDT meeting, or go out with a Community Nurse. I expected the hospice to be the same as the hospital with a few differences, but there are much fewer patients, meaning the Doctors and Nurses can spend more time with them. 
'I have learnt numerous things during my time on the Inpatient Unit. For example, I have learnt the uses of different drugs and the different ways they can be administered. I have also learnt that towards the end of their life, patients would often much rather be comfortable and happy then to stay alive for longer.' 
We asked Lara, Sophie and Thamina what advice they would give to other young people who may be thinking of applying to the Young Clinical Volunteer programme. 
'My advice would be to go for it!' said Sophia. 'It has been one of the best experiences of my life. I have met so many lovely people and learnt so many skills that I will use throughout the rest of my life. It has also been a great learning curve and has helped me to decide the career that I want to go in to.'  
'I would definitely recommend it,' said Thamina. 'My advice would be to ask as many questions as you can because the staff are more than happy to answer.' 
'Make sure that you are proactive,' Lara added. 'Often, HCAs can be very busy and sometimes we are not always able to help with tasks. Looking for small tasks such as refilling the PPE cupboards can save time in the future and the staff really appreciate it.' 
'I would also say to grasp all the opportunities that are available to you, make the most out of it and to mainly just enjoy your time on the programme!' Thamina finished.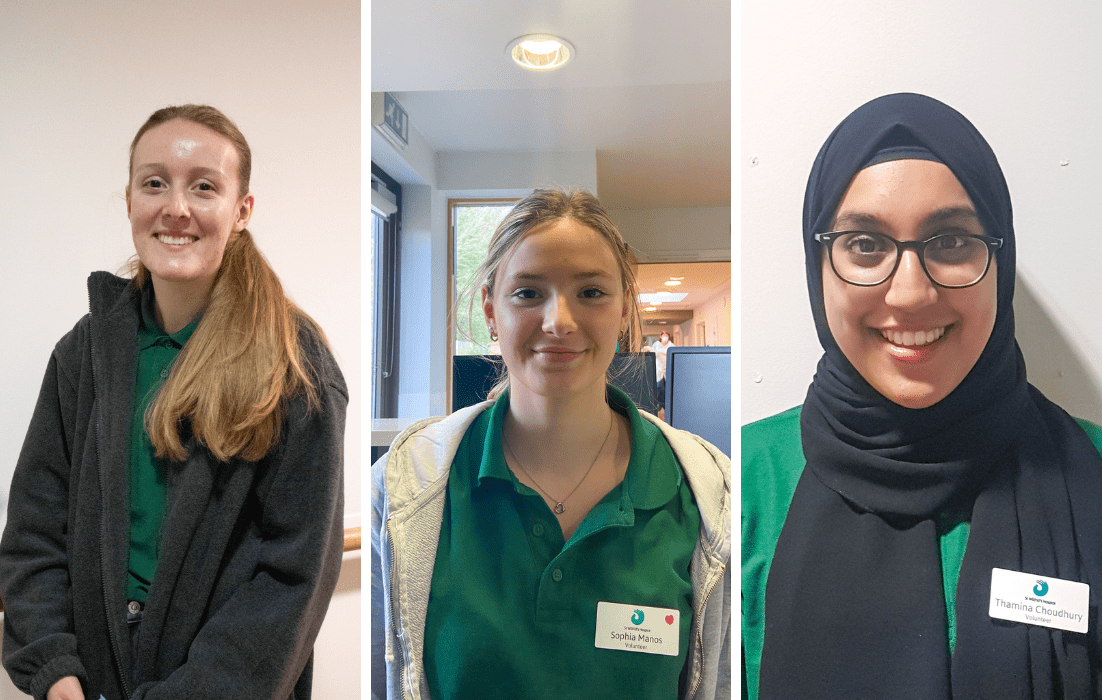 Lara, Sophia and Thamina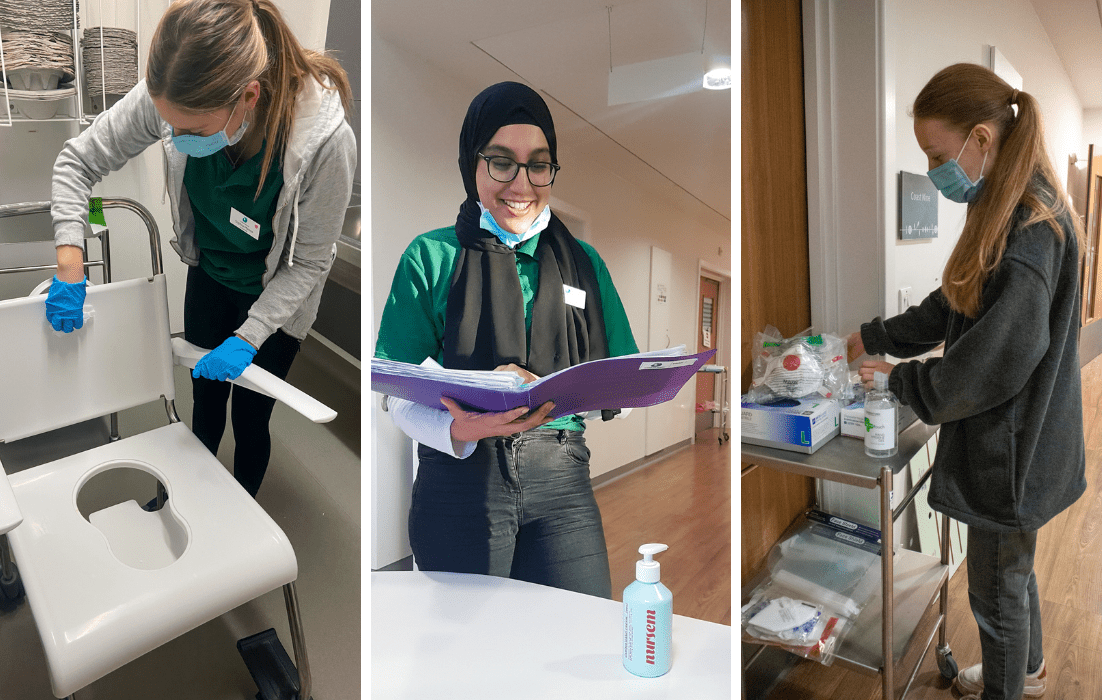 Sophia, Thamina and Lara getting stuck in on the IPU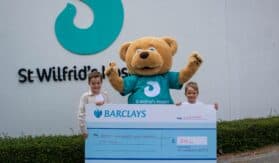 Jacob, 8 and Arlo, 5, approached businesses around Eastbourne asking them to donate prizes to their very own raffle.