St Wilfrid's has been chosen as a Co-op local cause!
Date published: 07 December 2020
We are pleased to share that St Wilfrid's Hospice has been selected as a Co-op local cause. This means that until the 23rd October 2021, Co-op members can raise money for the hospice every time they shop.
The money raised will allow us to buy new equipment for our Living Well Centre, helping us to support our patients both at the hospice and at home. This equipment is much needed and includes specialist seating, which is more suited to those with mobility issues, and IT equipment so that our Living Well groups can continue to be accessed in patients' homes.
We began our virtual support at the beginning of the pandemic after the Living Well Centre had to temporarily close. Our Therapies Team adapted quickly to new ways of working and now offer relaxation and gym classes through Zoom.
How the scheme has benefitted us previously
Last time the hospice was chosen for the scheme in 2018 we raised over £10,000, allowing us to buy the summerhouse in the Orchard Garden. Ruth Bacon, Head of Inpatient Care, explains how the summerhouse has made a difference:
'The summerhouse is a great addition to our garden and has been an important part of the hospice, particularly during the Covid-19 pandemic when we were using it to facilitate visits from family with children due to our visiting restrictions. Many of our patients like to go to the summerhouse with their family to access a quiet space away from their room.'
One of our Nurses, Freya Springall, shares a story of one patient's love of the summerhouse: 'One of our patients, who has since died, used to love using the summerhouse. She would go there everyday and fall asleep there peacefully. We have a local cat that often roams the hospice gardens and he used to love visiting her there. She enjoyed spending time with the cat and having a quiet space to be with her partner during her final weeks.'
How you can take part in the scheme:
You do not need to be in our area to choose us as a cause, but you do need to be a Co-op member. If you are already a Co-op member you can select us a cause by visiting our profile*. Here you can login and choose the hospice as your cause. If you are not a member, this page also lets you sign up (there is a small fee of £1).
If you have never logged in before and need support doing this please email membershipcontactus@coop.co.uk for help.
*If you do not have access to the internet you can choose us as a cause by phoning 0800 0686 727
Once you have selected us as a cause, each time you shop in the Co-op, 2p from every £1 spent on Co-op own brand products will be donated to St Wilfrid's.
Please note: Members can only raise funds for us in Co-op stores NOT the Co-operative food stores. In Eastbourne, stores where you can raise funds while you shop are: Cornfield Road, Albert Parade, Framfield Way, Meads Street, Shinewater and Eastbourne Funeralcare.
Thank you for your support!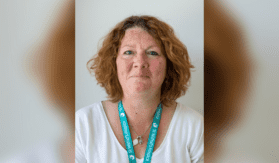 Meet Michele, our new Community Fundraiser at St Wilfrid's Hospice!