'My favourite thing about volunteering is the camaraderie.'
Date published: 06 September 2021
Patsy Thomas has been a long-running volunteer at St Wilfrid's Hospice, first joining us in 2012 when the hospice was in Mill Gap Road. She now heads our Open Gardens committee and offers a helping hand in our laundry room. She has kindly shared her story.
'I went along with my husband.'
'I started volunteering in 2012 in the Finance department. My husband had seen an advert in one of the charity shops asking for volunteers. I went along with him while he gave his details and they looked at me and said: "would you like to join?" The rest is history.
'Jose the Finance Manager, a lady called Catherine, and I were in the top room of the house in Mill Gap Road, which was cosy to say the least. The funniest thing was, though, that we used to store the old files in the bathroom, which was still being used!
'While I was helping in the Finance department, my husband was a driver bringing the patients to the hospice and back. He carried on doing that when the hospice moved to Broadwater Way and then he also helped at the men's cookery group, which he loved.'
Moving to Broadwater Way
'When the new hospice opened, I initially helped with the tours which was a good way to learn what was what. It was so different; it was spectacular, and it was wonderful to have the opportunity to be part of it.
'Then they were advertising a new position called the Host. It involved helping on the IPU, as well as at the Welcome Point and in Wellbeing. I was a bit apprehensive because my sister hadn't long since died, but I felt that I wanted to do something that was useful. I also felt loyalty to the Finance department, so in the end it was agreed that I would do it fortnightly – one week in Finance, one week hosting.
'I was then asked, about five years ago, to come along to the Open Gardens and help with the catering. A lady called Margaret used to be in charge of the committee, but then decided to retire and asked me to take it on. I've got a wonderful team of helpers who are very supportive. I can always ring them to ask if they can help or if they can make a cake.
'One of my highlights from the Open Gardens season this year was a lovely garden at Bates Green, next to the Arlington Bluebells. It was the first time we'd been there. The owner's wife was passionate about her garden before she had died and then it was left for a while. Now the owner has got a gardener, Emma Reese who's re-doing it and it looks absolutely beautiful!'
A new normal
'When the Covid-19 pandemic took hold, we were told that the hospice was desperate for volunteers to help with the laundry. My husband and I volunteered and we've been doing that ever since. It makes it easier having the two of you in there because as well as the company you have someone to help you fold the sheets. My husband is an absolute ace with the iron now!
'It was a tough time, but it was good for us to be able to see people, otherwise we would have been so isolated. We felt so safe and it gave us a sense of purpose to get up and do something useful to help the community.
'The hospice is a wonderful place. My favourite thing about volunteering here is the camaraderie and getting to know different people from all walks of life.'
Patsy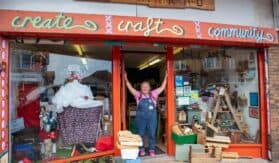 Lindy Creasy, Shed Co-ordinator at the Hampden Park Shed, shares the benefits of group arts and crafts.