Date published: 06 April 2022
In February 2021, Sue Hyde was diagnosed with stage four pancreatic cancer at just 51 years old. After a short stay on the Inpatient Unit, a year after her diagnosis, she died peacefully surrounded by her family.
In Sue's memory, her sister-in-law Wendy has decided to take to the skies for a challenge completely out of her comfort zone. Wendy has kindly shared Sue's story and why she has decided to do a skydive.
---
'I cannot put into words how special Sue was; she was one of a kind. I knew her for over 30 years, and I never heard her complain or speak badly about anything or anyone. She was just incredible. She was known as "Sue Bear" to her closest friends and family because she gave the best hugs.
'Before Sue was diagnosed, we knew she was going into hospital for a scan, but it was initially for gallstones. She received the results on my birthday, but she didn't tell us straight away because she didn't want to ruin my day, which was testament to her character. When they did tell us, Mark (Sue's husband and my husband David's twin brother) couldn't speak, but Sue told us "I'm going to fight it with everything I've got" and she carried on just like that.
'Mark and Sue were each other's worlds. They were together for over 30 years and married for 24. They fought her illness with every last ounce of their strength and love, taking the ups with the downs but never giving up. However, because of all the Covid-19 restrictions in place last year, we weren't able to see them much.
'Our family's experience with St Wilfrid's Hospice began just after Christmas. Sue had collapsed in the shower, so Mark had to ring for an ambulance. The paramedics offered to take her to the hospital, but she declined. Laura, one of the hospice Nurses, visited Mark and Sue the following day and referred her to the hospice. She went in on Wednesday 5th January 2022, and it was the best decision she could have made because we were finally able to see her. If she had gone into the hospital, they wouldn't have allowed visitors.
'When we walked in, you wouldn't have thought we were in a hospice. It was so light and bright; nothing like I had ever experienced before. It was a beautiful feeling. Sue loved watching the birds in the garden outside her window, and the Nurses were amazing. They are angels on Earth. Everyone was so accommodating, even when we practically took over the Retreat for a week! Our side of the family were able to get to know Sue's side of the family and we continue to reach out to them.
'When Sue first arrived at the hospice she thought she had a few months left, but during her stay she had an extremely high temperature and was taken to Eastbourne District General Hospital. The doctors there told Mark that he should prepare for end of life care – this was when her months of life declined to days. Sue died at 7.10am on Friday 21st January in Mark's arms. The 21st January is National Hugging Day, so she waited for her very last hug!
'I decided that I wanted to do a skydive only a few days before Sue died, although I never told her. I said to my husband that I wanted to do two things: give Sue one piece of my triple ring which has "I love you" engraved inside of it and to do a skydive. His response was: "Are you mad?"
'I could have done a sponsored walk or a cycle, but I decided to do a skydive because it is the most unlikely thing that I would ever do. It is so far out of my comfort zone, and because of that I think people will be more likely to support me. I just want to say thank you to the hospice for letting us spend the time we did with Sue.
'I will be taking to the skies on Friday 1st July from Headcorn Airfield. I feel nervously excited. I am calm now, but I know I will feel the nerves on the day. All the family are coming to cheer me on though, so I will have lots of support.'
---
We would like to take this opportunity to thank Wendy for raising money for St Wilfrid's Hospice, and wish her the best of luck in July. If you would like to show your support, you can donate to her JustGiving page here.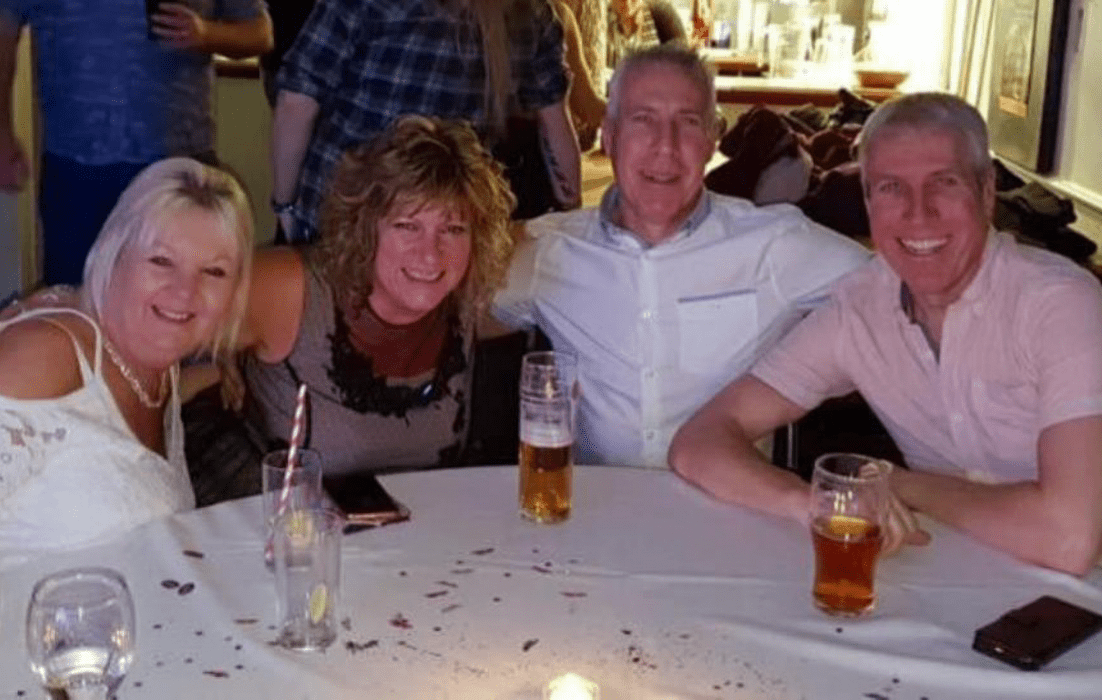 Wendy (far left) with Sue, Mark and David.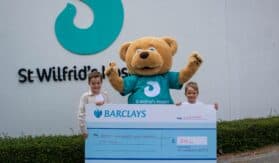 Jacob, 8 and Arlo, 5, approached businesses around Eastbourne asking them to donate prizes to their very own raffle.