Subscribe to our YouTube Channel
Video caption: Rainbow Run 22 is GO!
Rainbow Run is back!
Join us on the 28th of May 2022 at Nash Street Farm in Hailsham for the most colourful fun run in East Sussex! Rainbow Run is a family-friendly 5k fun run with a twist –throughout the course, you'll run through a cloud of colourful paint, and by the end you'll be covered head to toe in all the colours of the Rainbow.
Rainbow run isn't a race, and you aren't timed. The main point of the day is to have fun as you navigate the course. You can run, walk, dance or cartwheel – as long as you are completely covered in paint by the end, we don't mind!
This year, we're adding two more colour stations, so this time you'll be more colourful than ever! In addition to all of this extra paint, you'll also receive:
A white rainbow run T-shirt
A limited-edition Rainbow Run finisher's medal
Your own pack of powder paint
A super fun warm-up on the day to get you Rainbow Run ready
All the fundraising help and advice you may need from our fundraising team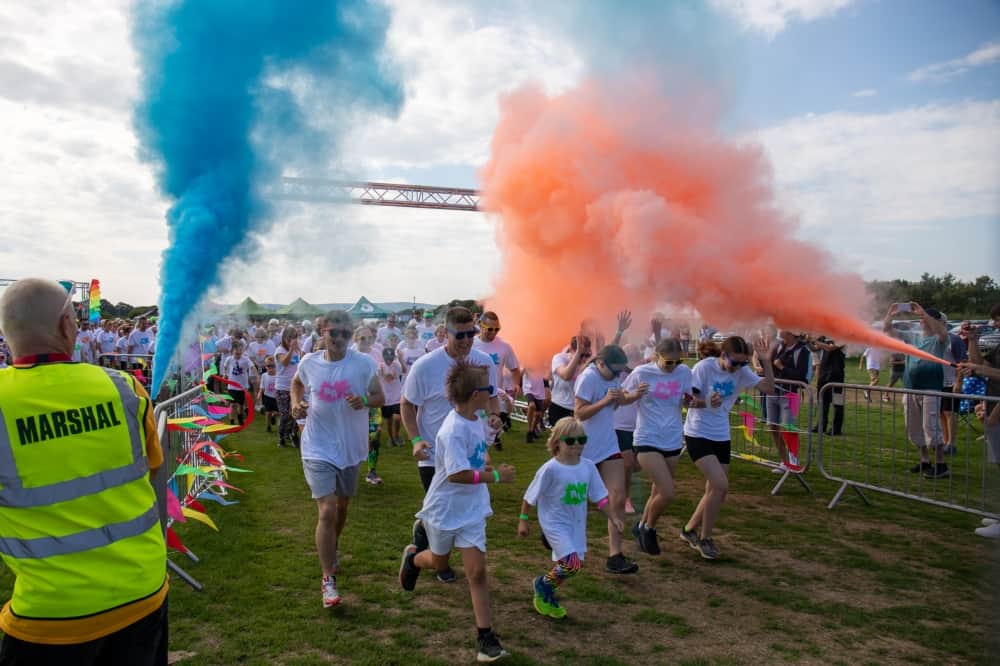 Each colourful puff of paint helps to raise vital funds for St Wilfrid's Hospice. The work of the hospice costs over £17,000 a day to run, and events such as Rainbow Run make an enormous impact on our patients, their families and friends and their carers.
Your registration fee will only cover the cost of running the event, so we are asking everyone who takes part to aim to raise £100 in sponsorship – this is the cost for a Registered Nurse to provide care on our Inpatient Unit or out in the community for one day.
The Venue
This event is taking place at Nash Street Farm in Hailsham, which has been kindly loaned to us for the day by the Thomas Family. There will be plenty of parking available on site, and there is a bus stop just outside of the venue: Golden Cross bus stop.
Group bookings
If you'd like to sign up a group of 5 or more adults, then please click here to make your booking.
Can I..?
We've answered many of the frequently asked questions about the event in our FAQ section at the bottom of this page.
Terms & Conditions
Please click here to download our Terms & Conditions before making your booking.
---
---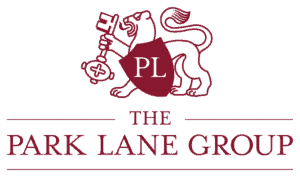 Rainbow Run 2022 has been kindly sponsored by The Park Lane Group; an award-winning housebuilder based in St. Leonards-on-Sea. They build, sell, let and maintain beautiful homes across East Sussex and into Kent. If you'd like to find out more about them, check out their website here: parklanegroup.net
Do I need to be super sporty to take part in Rainbow Run?
No! this event is open to all ages and abilities, and isn't timed so there is no pressure to get round the course as fast as you can. As long as you have fun, we don't mind how fast or slow you go!
Is the course wheelchair and pushchair accessible?
The course takes place over fields, which are generally flat and without large hills. There are some bumps and dips in the terrain, and there are points that may be very muddy. We've done our best to direct the route around them in order to make it accessible as possible, but If you have any further accessibility questions then please get in touch via fundraising@stwhospice.org
There is no upper or lower age limit for Rainbow Run – it truly is for everyone! We just ask that all participants under the age of 14 are accompanied on the course by a paying adult.
What happens after the race?
After the race, you're invited to join us at the paint party! At the finish line, you'll receive a paint pack, all you have to do at the party is throw it in the air and have a little boogie with your fellow Rainbow Run finishers.
Is the colour powder safe?
Yes, the colour powder is non-flammable and non-toxic. It is made in an ISO 9001 certified factory in India using corn starch and natural dyes to ensure the safest powder possible.
Can I take photos or videos at Rainbow Run?
Of course, we welcome you to take as many photos or videos as you wish during the day. Tag us on social media with #rainbowrun22. By signing up for Rainbow Run, you agree to use of the images in promotional material after the event. If you do not wish for us to use your photograph, please ask for a photo wristband at the registration desk.
Can I take part if I'm pregnant?
This is completely up to you and your doctor. As we mentioned earlier, the paint is non-toxic, but we do recommend that you seek medical advice before entering the race if you are pregnant. If you wish to have a bit of extra protection on the day you are more than welcome to wear a mask through the colour zones.
For the safety of our runners and our 4-legged friends, we cannot allow animals to be on the site during the event – this includes the event village and the spectator areas along the course.
Can I make a group booking?
Yes! The more the merrier!
If you'd like to sign up a group of 5 or more adults, then please contact us on fundraising@stwhospice.org, or 01323 434241.
I have another question...
If we haven't answered your question then please get in touch with our fundraising team at fundraising@stwhospice.org, or 01323 434241.
Saturday 28 May 2022 - Saturday 28 May 2022
Nash Street Hailsham BN27 4AB