Event kindly sponsored by:

Can you handle the heat? Face the flames and put your best foot forward at our hottest event of the year!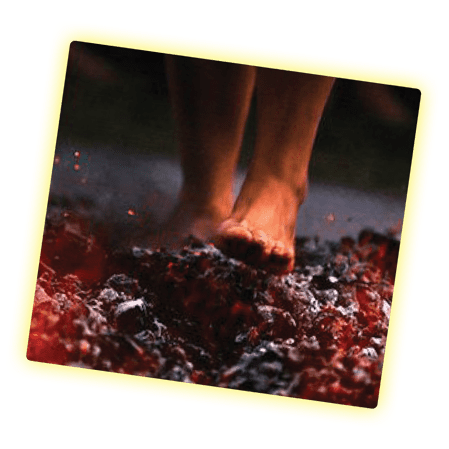 St Wilfrid's Hospice is offering you a unique experience to face your fears and take part in our returning Firewalk event. With temperatures rising to a scorching 800 degrees, this challenge is not for the fainthearted. The Firewalk team at Time4Change will be there to support you and motivate you to hotfoot across the coals. This challenge is a test of your bravery and spirit, and once you've crossed the coals, you'll feel like you can truly do anything! This event is suitable for adrenaline seekers over the age of 16.
Whether you're looking for a new challenge to take on, or looking for a way to raise money in memory of a loved one, you will achieve something incredible by completing this 15ft dash to victory while raising much-needed funds for St Wilfrid's Hospice!
Your friends and family will all be able to attend the event and cheer you on as you take on the walk of fire. Our hospice café will be open all evening, but we ask that everyone wears a mask and uses the hand sanitisers regularly when inside the building.
The format of this event will be updated if Government guidelines surrounding Covid-19 change, and we will keep all participants up to date with any changes. The event will be broadcast on our social media channels, so any of your loved ones who can't make it on the night will see you complete the Firewalk in the comfort of their own homes.
A delicious mac 'n' cheese and hot drink will be provided to all participants, included in the price of your ticket.
The standard entry price is £30 per person, or £25 per person if you sign up with a friend. 
Of course, part of this event is fundraising for a fantastic cause, and we are asking for a minimum sponsorship of £100 per person.
Our Fundraising team will be on hand to help you with fundraising and can provide you with things like sponsor forms and collection pots to get you started.
Please click this link to view your fundraising pack. It contains everything you need to know about the event and how you can hit your fundraising target.
Don't forget to set up your Just Giving page using our event link here
---
Self Funded Option
We understand that fundraising may not be possible for everyone, so we have introduced a self-funded option for this event, at £130. If you wish not to fundraise but would still like to take part, you can add £100 to your ticket when you purchase it below.
If you'd like to part-fund your ticket, then you can do this too! Simply add as much to your ticket cost as you'd like to, and fundraise the rest, for example, part-fund £50 on top of your ticket cost, and then fundraise £50.
We hope that we've sparked an interest in this event for you, but if you have any questions about Firewalk 2021, then please call 01323 434241 or email Jasmin Humphrey at fundraising@stwhospice.org
---
St Wilfrid's Hospice is not liable for any injury or damages sustained while participating in the firewalk. I am aware that I must sign a legal disclaimer given to me by Time4Change on the 27th of November and not signing it will result in me not being able to take part. I understand that there is a sponsorship requirement for this event and agree to try to raise at least £100. All sponsorship raised should be forwarded to St Wilfrid's Hospice by 8th January 2022.
FOR OUR FULL TERMS AND CONDITIONS FOR FIREWALK 2021 PLEASE CLICK HERE
---
Booked is now closed. Thank you for your support!
Saturday 27 November 2021 - Saturday 27 November 2021
St Wilfirid's Hospice Eastbourne BN22 9PZ