A day of care on our Inpatient Unit
Date published: 28 May 2021
We recently spoke to Nurses Oliver and Jessica, and Healthcare Assistants Amye and Elliesha to learn about what a typical day of care looks like for patients on our Inpatient Unit.
Morning
Each patient's day starts with a visit from our Nurses and Healthcare Assistants. 'We chat to patients to see how they are and talk about their plans for the day,' explains Amye. 'As Healthcare Assistants we help people to get washed and dressed and then they can order their breakfast with the help of our Host volunteers.'
'I always like to encourage patients to order what they want for breakfast as many of them have come to us from hospital where there were limited options; if they want a cooked breakfast, they can have it!' Jessica adds.
'After breakfast, at around 10am, we visit patients to give them their morning medication,' she continues. 'This helps control symptoms such as pain and fatigue. Many of us Nurses love a chat and I love hearing about their families, their pets, and their life at home. Families are a huge part of their care and we often host parties and other events like weddings and christenings.'
'We normally then leave patients to relax and enjoy their morning,' adds Amye. 'They are often visited by other members of our Multidisciplinary Team. For example, our Complementary Therapists come and offer massages and other therapies such as aromatherapy and reiki. Our Physiotherapists and Occupational Therapists may come and help patients with exercises to increase their mobility or to make things like walking easier,' she explains.
'The care we give is holistic,' says Jessica. 'We look at everything a patient wants to achieve, not just their medical care.'
Afternoon
'Patients choose their lunch from a daily menu. On Fridays we always offer fish and chips and a roast dinner on Sundays. If patients can't eat solid food this can be pureed so that they can still enjoy all the flavours!' says Jessica.
'The afternoon is generally a quieter time' shares Amye. 'Often patients have visitors in the afternoon and the hospice team leave them to enjoy their time together. However, some patients don't have visitors, so we go and chat with them to keep them company. Sometimes they want to go out into the garden, so we help them to do that, often pushing them out in their bed. Recently we sat with a man outside and watched the birds. He had not been outside for a long time and it made him really happy.'
For Elliesha it is making patients feel special which means the most: 'I love pampering patients,' she said. 'This could include washing their hair (that may not have been washed for weeks) and blow drying it afterwards. Or it could be giving a patient a lovely bubble bath with the jets on after years of not being able to have one. I love hearing about patients' lives while painting their nails or putting their favourite moisturising cream on.'
Evening
Amye explains a typical evening: 'From about 5pm our volunteers serve patients their dinner and the Nurses give them their evening medicine, while we help patients who have difficulty eating.
'We also talk about their plans for the evening. Some like to settle down early while others stay up to watch TV or chat to the staff. If patients want to watch their favourite film or read their favourite magazine, we help make this possible.'
Night
Oliver is one of our Nurses who often works on the night shift from 8.30pm. He explains his role at night: 'The atmosphere is often quieter at night without as many clinical staff, volunteers, therapists and visitors around. This gives us the opportunity to spend more time speaking to patients. We get to know their routines and learn whether they would like to chat or be left alone. Despite this, our shifts can be non-stop, and we always need to be prepared to expect the unexpected!
'There is no set timetable at the hospice; we support patients to structure the day in a way that works for them. I often get chatting to a patient's family at night if they cannot sleep and want to discuss their worries or just have a chat. During the pandemic we have also been doing extra things like helping patients call their family via Zoom.
'As well as this, it's important to make sure they're comfortable. With the support of the Healthcare Assistants, I also sometimes help people to wash if this is something that they're keen to do.
'While we are supporting patients on the ward, the night shift Nurses help people who call our 24/7 Nurse Line. During the night is often a time when patients and their families feel most anxious and afraid, so we are there when they need us.
'For me, the relationship between hospice staff and patients is so important. I love building a rapport with patients and having a laugh to make things lighter. Many people come to the hospice and think it will be a morbid place, but we soon break down the barrier to show it is place full of life!'
Each day of care for a patient in the Inpatient Unit costs £400. If you would like to sponsor a day of care, click here!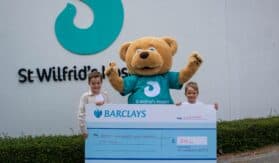 Jacob, 8 and Arlo, 5, approached businesses around Eastbourne asking them to donate prizes to their very own raffle.